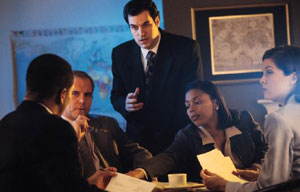 Preston Ni is available as an expert presenter in the U.S. and around the world on the topics of Leadership, Professional Communication, Cross-Cultural Understanding, and Interpersonal Effectiveness. He has taught seminars and courses for companies and organizations including Microsoft, Hewlett-Packard, Lockheed Martin, Intel, Deloitte, McKesson, Visa, eBay, Yahoo!, Epson, NEC, Wells Fargo Bank, Clorox, Macy's, Society of Women Engineers, SF Dept. of Public Health, UCSF Medical School, and the U.S. Environmental Protection Agency.
Popular Presentation and Workshop Topics (customized training programs available):
The Promotable Leader: Eight Success Strategies
Secret Meaning of Body Language
How to Get What You Want with Soft Power
The Power and Art of Confident Communication
Communication Success with Four Personality Types
Professional Branding Secrets to Accelerate Your Career
Five Keys to Enhancing Your Emotional Intelligence
Communication Success for Foreign Born Professionals
Communication Success for Female Professionals: The Seven "Must Knows"
Communication Success for High-Tech Professionals
Emotional Intelligence for Technical/High-Tech Professionals
Cross-Generational Professional Communication
Is Your Tone of Voice Promotable: Discover Your Best Voice
Presentation Confidence and Reducing Nervousness
Negotiation and Mediation Skills
Winning People Skills
Cross-Cultural Communication Special Topics:
Cross-Cultural Communication Success: East and West
Communication Success and Challenges for Asian American Professionals
Breaking the Bamboo/Glass Ceiling: Leadership Communication Success for Asian American Professionals
Asian Americans and Emotional Intelligence - Five Keys to Enhancing EQ
Immediate Accent Reduction for Foreign Born Professionals
Communication Success with Professionals in China
Communication Success with Professionals in Taiwan
Communication and Motivation with Professionals from India
The Psychology of "Face"
Hiring and Screening Candidates in China
Essentials to Successful Guanxi (Chinese Networking)
For more information, contact commsuccess@nipreston.com.

"(Professor Ni's) presentation was on the Secret Meaning of Body Language. He was by far the most popular of all our speakers, with 98% of our guests rating him as excellent or very good on a five point scale. He was hilarious and kept everyone on the edge of their seats...Our guests were clamoring for more information and look forward to having him back in the future."

- Arlene Lum, CAAEN Event Chairperson

"Preston Ni rocks as an expert trainer in Cross Cultural communications. He conducted a Lunch N' Learn session for our organization regarding Cross Cultural communication and electrified our employees who didn't want the session to end. Preston is truly an outstanding presenter and trainer who drives for sustained organizational improvement. I highly recommend Preston Ni to other organizations who want to proactively engage employees and drive organizational excellence."

- Michael J. Milbier, MBA, Ed.S, Sr. Manager-Training and OD, SST

"Preston did a presentation on "Communications Success for Female Professionals: the 7 Must-Knows" for the NAAAP-SF 1st Annual Women's Leadership Forum. His room was so over capacity that attendees had to stand outside the room. Several female attendees were skeptical that Preston, a male, could be an expert on such a topic, but they were quickly convinced that he has a deep understanding of the subject after attending the session. Feedback received for Preston was extremely positive, and NAAAP-SF has plans to have him come back to do a longer workshop for our members."

- Kathy Doan, Vice President, NAAAP-SF

"The standing-room-only crowd of employees from Lockheed Martin Space Systems Company found Preston Ni's talk...useful and enlightening, as well as entertaining. Clearly, improving our employees' abilities to understand the entire message -- body language as well as the spoken word -- will improve our company's effectiveness."

- K. Dalrymple & D. McKinney, Lockheed Martin

"Prof. Ni's course Communication Success for Trainers, Managers and Mediators was a huge hit! Our team of fifteen in-house trainers gained much valuable skills to communicate more effectively with both managers and staff. In a health care environment where lives are at stake, this is particularly critical. Prof. Ni's highly practical communication ideas should be taught and implemented in every organization."

- Luenna Kim, Dept. Personnel Officer, SFDPH

"I found the seminar Professor Ni gave at Microsoft very informative. I was impressed with his dynamic energy, practical approach, and personable style."

- Miaoching Chu, Senior Staff Engineer, Microsoft Corporation

"I SO ENJOYED your The Promotable Leader presentation! It was about the best presentation I've seen so far here. You gave such meaty information, and so many great tidbits and morsels I was writing as fast as I could. I will definitely review these notes again and again. "

- Nancy J. Fraze, Legal Assistant-Shared Services

"I enjoyed (Preston's) presentation, The Power of Communication so much that I didn't want it to end. He was enthusiastic, humorous, and knowledgeable. I hope he comes back to our conference next year and is allowed more time."

- Linda Martic, President, Greater Roseville IAAP

"Preston is a dynamic and entertaining speaker and coach. He has made a significant difference in how our employees view a diverse workforce and the skills, attitudes and professional development necessary to succeed in today's highly competitive market."

- Bob MacLellan, Director of HR, SST

"The Cross-Cultural Communication lecture that Preston Ni delivered was extremely informative...His classes should be mandatory for all new associates...Everything he covers is in depth and useful. I would recommend his workshops to everyone!"

- Kolleen Dyson, Program Manager, NECLAM

"Professor Ni gave an energetic, informative and entertaining presentation on Body Language and Effective Communication at our recent Quarterly Staff Meeting. The content and delivery were practical, relevant, and immediately useful both professionally and personally. I have heard only positive feedback about this from my peers who also attended."

- Grace Gravestock, Consultant, Deloitte

"Technical professionals tend to neglect the need to communicate effectively. Mr. Ni has enabled Solectron employees to become more productive and efficient by acquiring the much needed communication skills."

- Thomas Wong, Technology Curriculum Manager

"We were honored to have Professor Preston Ni coming in as our Distinguished Speaker on several occasions in the past few years to share with us his insights and knowledge on professional communication, cross-cultural communication, and interpersonal communication. With each visit, we received overwhelming positive response from our members. It is no exaggeration to claim he is one of the best speakers ever!"

- Christina Yip Chung, Ph.D. President, SVSpeakup